15 Aug

Schedule Your Party or Special Event at Stardust Bowl!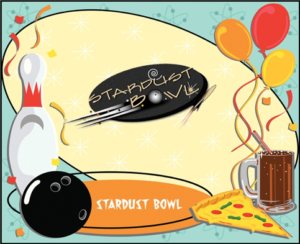 Does your child have a birthday coming up? Looking for a good team building activity for the office? If so, why not give a bowling party a try? Stardust Bowl in Addison, Illinois hosts parties and events for a variety of different purposes.
You can bowl a few games, have some drinks, eat some food, and congregate with your friends in a fun, laid-back setting. We'd love to have you!
We Host Events of All Kinds
Kids Birthday Parties
A kid's birthday party should be special; something he or she remembers years down the road. The question is: how do you arrange a party of this caliber? One good option is to have it here at Stardust Bowl.
We take kids birthday parties very seriously, ensuring that we provide ample food, drink, and — most importantly — fun for all. Interested in scheduling a kid's birthday party? Looking for a few more details? Take a look at our party packages right now!
Work Events
All work and no play often produces unhappy and unmotivated employees. Looking to schedule a fun event for your hard-working employees? A bowling party could be exactly what you're in search of.
Stardust Bowl welcomes work events with open arms, providing plenty of bowling, plenty of food, and plenty of drink. Whether you want to reserve a few lanes, or just hang out in our lounge, we can accommodate you.
Bachelor and Bachelorette Parties
Is a wedding on the horizon? Hoping for one final blowout with your friends before settling down? Stardust Bowl would love to host you.
Equipped with a professional-quality audio system, we'll be playing music all through the night. Bowl as much as you'd like, hang out in our lounge, have a few drinks, and enjoy a fun atmosphere with your friends.
Adult Birthday Parties
Kids aren't the only ones who like to have fun on their birthdays. Adults should have a chance to celebrate also. That's why we here at Stardust Bowl accommodate adult birthday parties as well as kids birthday parties.
We have a number of adult-appropriate activities available. Not only can you and your friends do a little bowling, you can play billiards, hang out in our lounge, and enjoy a few alcoholic beverages.
Charity Events
Are you the head of a charitable organization? Is your business trying to raise money for a good cause? Perhaps you're a sole individual hoping to help a family in need? If so, you might consider putting on a charitable event.
Looking for a place to have this charitable event? Stardust Bowl is an outstanding option. Regardless of the size of your event, we will accommodate you to the best of our abilities.
Family Reunions
Hoping to get the entire family into one room at one time? Looking for a fun activity to partake in while doing so? If so, a bowling party might be exactly what you need.
Stardust Bowl can accommodate events that include up to 300 people. By having your get-together in our facility, you will be able to take advantage of tons of fun activities. You will have the option to bowl, play some pool, have a few drinks, and fraternize with the people you care about the most right here at Stardust Bowl.
Schedule Your Addison Party or Event Now!
Interested in giving a bowling party a go? Are you ready to schedule your party or event? We here at Stardust Bowl are ready to accommodate you. Regardless of the nature of your Addison get-together, we would love to have you.
Contact us today to get the ball rolling!