15 Sep

Hold Your Corporate Event at Stardust Bowl in Addison, Illinois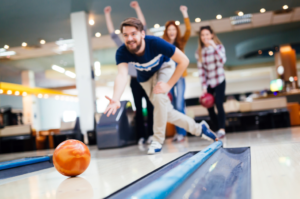 Are you trying to organize a fun party for your employees or co-workers? Looking for a large meeting room in which to hold a corporate banquet? If so, Stardust Bowl in Addison, Illinois has you covered.
We can accommodate corporate events of all kinds, from parties, to banquets, to charity events, and much more. Interested in what we have to offer? Find further information by reading below!
Participate in a Range of Fun Activities
Whether you're putting together a party, a charity event, or a banquet, Stardust Bowl offers more than enough activities to keep you and your guests busy. Some of our most popular activities are listed below.
Bowling
Whether you're good, bad, highly practiced, or entirely unacquainted, bowling can be a ton of fun. Bowling is not only a uniquely challenging sport, it's a great bonding activity. Rolling a few rounds together will help you and your employees or co-workers to build relationships outside of work.
Stardust Bowl is equipped with 84 different bowling lanes, many of which are fixed with bumpers for children. Whether you're making bowling accommodations for adults or for children, we have you covered.
Billiards
Maybe you and your guests like to shoot pool? If so, Stardust Bowl is the perfect venue for your party. Our lounge is stocked with an array of officially-sized billiards tables, all of which will allow you and your guests to participate in a recreational or competitive game.
Slots
Perhaps a little low-stakes gambling can help to set your event off right? If so, you'll be happy to hear that we have slot machines. Come try your luck!
Enjoy Our Luxurious Lounge
While we can certainly make special bowling accommodations for your event, you might simply prefer to hang out in our new lounge. Serving top-notch food and affordable drinks, it is sure to have something that the members of your event can enjoy.
Top-of-the-line Entertainment
What better way to set the atmosphere for your event than high-quality music, lights, and video? We have an outstanding entertainment system at Stardust Bowl.
Music
Whether your guests are hanging out in our lounge or rolling a few rounds on our lanes, they will have plenty of music to accompany them. With a sophisticated sound system on our side, we play great music at all hours of the day.
Lights
In addition to a top-of-the-line music system, we also have an aesthetically-astounding light system. This system helps create an atmosphere of energy and excitement, providing you and the others in your group with a place in which to sing, dance, bowl, and socialize.
Video
Our facility is also equipped with an array of HDTVs, displaying everything from sports, to movies, to television shows, and more. If you or your guests are looking to sit back, relax, and enjoy a little visual entertainment, we have you covered.
Set Up Your Event Now!
Interested in hosting your corporate event at Stardust Bowl? Want to discuss specifics? Maybe you want to schedule your event officially? In any case, we would be more than happy to help.
Contact us at your leisure, or stop in and see us at 37 E. Lorraine Ave, Addison, Illinois.