15 Oct

Enjoy the Fully-stocked Game Room at Stardust Bowl in Addison, Illinois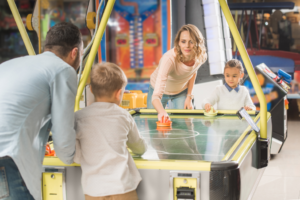 While Stardust Bowl is certainly a bowling alley, it's far more than just a bowling alley. In addition to our many lanes, we also have a lounge, banquet rooms, a restaurant, and, last but certainly not least, our brand-new Game Quest arcade room.
Our game room is equipped for activities of all kinds. Whether you're hoping to play some arcade games, shoot some hoops, or snag some prizes, it will have you covered.
What Does Our Game Room Have to Offer?
There is no shortage of things to do in our game room. Regardless of what your game preference might be, Game Quest is bound to have something that intrigues and excites you. Our games can be grouped into the following categories:
Arcade Games
We have arcade games of all kinds, from Jurassic Park inspired games, to The Walking Dead inspired games, to racing games, and much, much more. These games can be played either solo or with additional players.
Arcade Basketball
Whether you're regularly into basketball or not, shooting some hoops every now and then can be a lot of fun. This is especially true when done in an arcade setting.
Our arcade basketball games can be played either alone or with friends. Counting your score for you as you make baskets, these games make for great fun. This is true whether you're playing them competitively or recreationally.
Air Hockey
There are a few notable games that any decent game room should offer. One such game is air hockey. Here at Stardust Bowl, we have the Dynamo Hot Flash II, a full-size air hockey table with automatic electronic scoring capabilities.
This table is a great surface for both competitive and recreational play. Equipped with a high-powered blower, it allows for top-notch gameplay at all times.
Skee Ball
Nothing screams arcade quite like skee ball. This game was one of the first ticket redemption games ever invented. Since its invention, it has appeared in countless arcades and game rooms around the world.
Like any impressive game room, Game Quest is stocked with a high-quality skee ball machine. Our machine allows you to win tickets, which can be turned in for some awesome prizes.
Claw Machine Games
Remember when you were a kid and you always hoped you could grab a prize from the claw machine? This doesn't have to be just a memory.
Here at Stardust Bowl, we have a wide variety of claw machines. These machines allow you to grab prizes of all different shapes, sizes, and styles.
Other Assorted Games
In addition to the games reviewed above, we also have a wide variety of assorted games. These games include everything from coin shooting games, to whacking games, to ring toss games, and much, much more.
If you want to get a real feel for what we have to offer, your best bet it to just stop in and take a look for yourself.
Photo Booth
Want to capture the memory of a fun night out with your friends or family? Our game room has just the thing for you: a photo booth!
The Apple Scene Machine 2 utilizes a green screen-like technology, allowing you and your friends to take all types of creative pictures.
Stop by Our Addison, Illinois Game Room Today!
In the mood for some billiards? Looking to play some slots? Stop by Stardust Bowl in Addison Illinois and spend a little time in our Game Quest arcade.
We're open Sunday 9:00 AM – 11:00 AM, Mon-Wed 9:00 AM -12:00 AM, Thursday 9:00 AM –1:00 AM, Fri-Sat 9:00 AM – 2:00 AM.
Have any questions? Don't be afraid to contact us!