15 Nov

Have Your Next Glendale Heights Birthday or Office Party in Stardust Bowl's New Game Room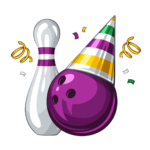 Maybe your son or daughter has a birthday coming up? Perhaps you're looking to get your employees or co-workers together for some after-work fun? If so, you should consider having a party at Stardust Bowl in Addison, Illinois.
We just opened our new game room, Game Quest, and it's been a huge hit. Curious as to what our game room has to offer to your party? Keep on reading!
All Sorts of Activities in Our Game Room
Our game room is fully-stocked, offering games and activities for all tastes and preferences. Some of our most popular activities are as follows:
Air Hockey
What is a game room without an air hockey table? Air hockey has been a fixture in game rooms since the mid 70s, and have become icons of arcade culture. Naturally, our game room has a state-of-the-art air hockey available.
Whether you're looking to play recreationally or competitively, we have you covered.
Arcade Basketball
Also available in our game room is arcade basketball, a game where you shoot mini basketballs into small hoops while trying to accumulate as many points as possible. This is a fun game whether you have someone to play against, or are just playing against your previous personal high scores.
Great athleticism is not a pre-requisite to participate in this game.  Just put up a shot and hope for the best. Regardless of whether or not it goes in, you're bound to have a lot of fun playing it.
Skeeball
Skeeball has been played in American arcades since the beginning of the 20th century, so it stands to reason that our game room would have skeeball available to its many guests. Whether you're looking to play for the competition, or are simply hoping to nab some tickets to win cool prizes, skeeball is a fun activity.
Arcade Video Games
Like any good game room, we have plenty of arcade video games to offer. While some of these games are based on pop culture shows and movies such as Jurassic Park, other games include racing, shooting, and a variety of other activities.
Claw Machines
At some point in your life, you've likely tried to grab a prize out of a claw machine. If not, you can try for the first time in our game room. We have a number of claw machines spread out throughout our space, allowing you to nab all types of stuffed animals and prizes.
Traditional Arcade Games
Like any game room worth frequenting, we have tons of traditional arcade games available. These arcade games include everything from whack-a-mole-style games, to coin shooting games, and much more.
Photo Stands
Interested in taking some pictures with the members of your party? If so, you can do so easily with the use of our photo stand. This photo booth offers an array of backgrounds and styles, allowing you and your friends to take tons of memorable photos. Plus, you will have the option to share your photos directly to social media.
Stardust Bowl Will Cover All the Bases of Your Party
While your party certainly has the option to just show up and hang out in our game room, you should be aware that we also offer party planning services. This is especially true for kids' birthday parties.
Our staff will work with you to ensure that your party has everything it needs, from cake, to drinks, to food and much, much more. We look forward to having you!
Interested in Scheduling Your Glendale Heights Party?
Interested in having your party at Stardust Bowl? Looking to schedule your party officially? If you are looking for an exciting venue for your next party, the arcade game room at Stardust Bowl is the place to be.
Schedule your party by emailing us here, or calling us at (630) 833-1040!