15 Feb

Have Your Kids Party at Stardust Bowl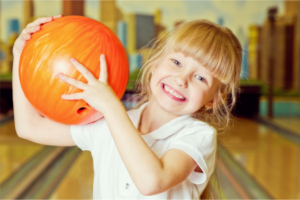 Whether it's to celebrate a birthday, or just to have a good time, one of the best types of kid's parties is a bowling party. Are you interested in having a bowling party for kids in the Wood Dale, Illinois area? If so, Stardust Bowl has you covered.
We host kids' parties of all kinds, doing everything we can to make our youthful guests feel welcome. Curious as to what our facility has to offer? Read on to find out!
The Benefits of Our Party Packages:
If you're looking to have a birthday party for your son or daughter, you might be interested in taking advantage of one of our party packages. We have two party packages available, which include:
Spectacular Spare Package
If you're looking to keep it as simple as possible, you might consider going with our Spectacular Spare package. The more affordable of our two birthday packages, this package is available for $16.95 per child.
The Spectacular Spare package comes with plenty of benefits, including two hours of bowling, free shoe rental, pitchers of beverages, party invitations, thank you cards, a balloon bouquet, 1 hour in a party room, and a dedicated host or hostess.
In addition, each party guest will receive a meal. Kids will be able to decide between a hot dog and fries, chicken tenders and fries, or two slices of pizza.
Smashing Strike Package
If you're looking to go above and beyond with your party, the Smashing Strike package might be more up your alley. Available for $19.95 per child, this package includes all of the benefits included with the Spectacular Spare package as well as a few extras.
Its additional benefits include goodie bags, bowling coupons, and a birthday cake. Plus, the birthday kid will receive an official Stardust bowling pin to take home.
Plenty of Fun to Be Had
Here at Stardust Bowl, we put a priority on fun. That's why our facility makes such a great location for a kids' party. It is more than equipped to keep kids entertained for hours. Some of the activities that kids can enjoy at our facility include:
Bowling
At the center of everything we do is, of course, bowling. Sporting 84 lanes, we have no problem accommodating parties of all sizes. Fully equipped with automatic scoring machines and bumper options on each lane, we make gameplay easy for kids of all ages.
Gaming
If your party isn't interested in bowling, it might be interested in video games. Featuring games of all kinds in our new Game Quest arcade room, we make it easy for kids to have a blast and win prizes.
Non-stop Entertainment
With a top-notch speaker system and an aesthetically creative light show, our facility always maintains an exciting, inviting, and vivid atmosphere. The kids at your party are sure to have a good time.
You Won't Go Hungry or Thirsty
If there's one thing for sure during your Stardust Bowl kids party, it's that those in your party won't go hungry or thirsty. There are all kinds of foods and beverages available in our facility, ensuring that your party can eat and drink as much as they please. Whether you'd like to get your food and beverages through a party pack, or order it through our lounge, we can accommodate you.
Make Your Party Official Now!
Are you interested in having a kids' party in the Wood Dale, Illinois area? Looking to make it official? If so, we're more than ready to sign you up.
You can schedule your party by calling us at (630) 833-1040, or by emailing us through this link. Our open hours are 9:00 AM to 11:00 PM on Sunday, 9:00 AM to 12:00 AM Monday through Wednesday, 9:00 AM to 1:00 AM on Thursday, and 9:00 AM to 2:00 AM Friday and Saturday. We would be happy to host you!