15 May

Get Better Acquainted with Your Co-Workers at Stardust Bowl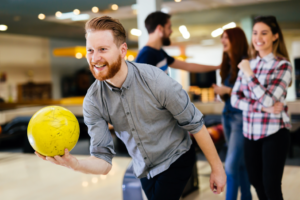 Are you looking to host an office party or employee recognition event? Are you and your co-workers looking to relax after a long day at work? Need somewhere to go? If so, you might consider coming to Stardust Bowl in Addison, Illinois.
Our facility is designed to provide great times to guests of all ages and interests. Sporting a series of lounges, game rooms, and bowling lanes, it is almost sure to have something that you and your co-workers will enjoy.
Read below to find out what we have to offer!
Live it Up in Our Lounge
Looking to kick back and relax a bit? If so, you're bound to enjoy our lounge. Whether you want to eat, drink, or just converse with your co-workers, it will accommodate you. While in our lounge, you and your co-workers can:
Enjoy a Few Drinks
Sometimes, after a long week at work, there's nothing better than a few beverages. If you and your co-workers are looking to enjoy a few cold beers or mixed drinks, our lounge is the place to be. Featuring a full bar and a bevy of drink deals, it has everything needed to help you drink on a budget.
Eat, Eat, Eat
Whether you're looking to have a full meal or are just hoping to grab a snack, our lounge will accommodate you. Our in-lounge restaurant, The Big Labowlski Grill, offers a large selection of food, ensuring that there will be something for you and your co-workers to enjoy.
Watch the Big Game
Stocked with an array of HDTVs, our lounge is the perfect place to catch the big game. Whether you're looking to watch basketball, baseball, hockey, or another sporting event, we have you and your co-workers covered.
A Number of Activities to Partake In:
Here at Stardust Bowl, we have all types of activities for our guests to partake in. Regardless of the interests of you and your co-workers, there's bound to be something you'll enjoy. While here at Stardust Bowl, you can:
Bowl a Few Rounds
Simply put, we are the largest bowling center in the State of Illinois. Featuring 84 bowling lanes, all of which are bumper-capable and equipped with automatic scoring computers, we accommodate bowlers of all experience levels. Regardless of the size of your group, we'll have no trouble setting you up with an appropriate number of lanes.
Game it Up in Our Game Room
Is bowling not your thing? If so, you might be interested in gaming instead. Our game room, Game Quest, is loaded with games of all kinds. Whether you're looking to play arcade games, mechanical games, video games, or otherwise, it will accommodate you. Plus, you will have a chance to win some awesome prizes!
Take in the Vibes
Here at Stardust Bowl, we prioritize fun. It is our goal to create as exciting and as fulfilling an environment as possible for our guests. This is why we feature a top-notch sound system as well as a state-of-the-art light system.
Whether you're bowling, gaming, or having a few drinks with your group, you're sure to enjoy the atmosphere present in our facility.
Are You Looking to Host an Employee Recognition Event or Office Party for Wood Dale Employees?
Are you wanting to reward your Wood Dale employees? Maybe you're looking to host an office party and bowl a few frames? Whatever the case may be, we at Stardust Bowl would be glad to have you.
We're open from 9:00 AM to 11:00 PM on Sundays, 9:00 AM to 12:00 AM on Mondays through Wednesdays, 9:00 AM to 1:00 AM on Thursdays, and 9:00 AM to 2:00 AM on Fridays and Saturdays. Our facility is located at 37 E. Lorraine Ave., Addison, Illinois 60101.
Feel free to contact us with any questions!