15 Jun

Have a Bloomingdale Holiday Party at Stardust Bowl in Addison, Illinois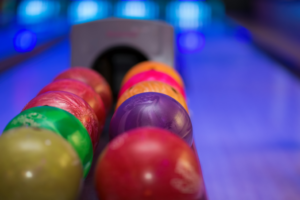 Looking to celebrate holidays with some of your friends and relatives? Perhaps you're looking to get the family together for a Thanksgiving celebration? If so, you might consider having a Bloomingdale holiday party at Stardust Bowl in Addison, Illinois.
Our facility is the perfect place to have a holiday party, as it offers a number of fun activities for large groups to enjoy. Interested in learning about what we have to offer? Then read on!
Activities to Partake In:
Stardust Bowl offers a range of activities for our visitors. When your party arrives, you have the option to partake in:
Bowling
At the center of everything we do is bowling. Our facility is equipped with a whopping 84 bowling lanes, all of which have automatic scoring machines and the option for bumpers. Whether your party consists of seasoned bowlers or complete novices, our staff will make sure that you have a great time.
Video Arcade
While bowling is our centerpiece, our Game Quest arcade isn't too far behind. Stocked with a wide variety of games, including mechanical games, classic arcade games, modern arcade games, and everything in between, it has everything you would ever expect out of a top-notch arcade room. If your party is serious about gaming, our arcade won't let you down.
Billiards
If bowling and gaming run their course, you might consider shooting a little pool. Our facility contains a number of billiards tables, allowing our guests to play their fair share of both competitive and recreational games
Lounge Around
If you're looking to have a low-key party, you might consider spending some time in our lounge. Characterized by good food, daily drink specials, and an inviting atmosphere, it's the perfect place to relax and enjoy each other's company.
Enjoy Some Drinks
Are the members of your party looking to enjoy a few beverages? If so, our bar has you covered. Offering beer and liquor specials each and every day of the week, we have everything you need to drink without hurting your wallet.
Share a Meal
Looking to have a nice meal together? That won't be a problem. Our in-lounge restaurant, The Big Labowlski Grill, has a wide variety of food for guests to choose from. Regardless of your food preferences, we can accommodate you.
Converse Around the TV
Looking to watch some Thanksgiving Day football? Perhaps you're trying to watch a parade? In both cases, our lounge has you covered. Lined with HDTVs, our lounge broadcasts a range of programs all throughout the day.
Take in Our Exciting Atmosphere
Here at Stardust Bowl, fun is our business. As such, we do everything we can to create an exciting and inviting atmosphere for our guests.
How do we create such an atmosphere? With the use of a top-notch sound system and a top-of-the-line light system.
We have great music playing and attractive lights beaming at all hours of the day. If your goal is to dance, sing, and have a great time, our facility will have you covered.
Plan a Bloomingdale Holiday Party at Stardust Bowl Today!
Whether you're looking to schedule a Bloomingdale holiday party officially or are just looking to stop by for a casual get-together, we would love to have you at Stardust Bowl.
Located at 37 E. Lorraine Ave., Addison, Illinois 60101, we're open from 9:00 AM to 11:00 PM on Sundays, 9:00 AM to 12:00 AM on Mondays through Wednesdays, 9:00 AM to 1:00 AM on Thursdays, and 9:00 AM to 2:00 AM on Fridays and Saturdays.
Contact us today to make your party official or to gather more information!