15 Aug

Come Watch College Football at Stardust Bowl This Fall!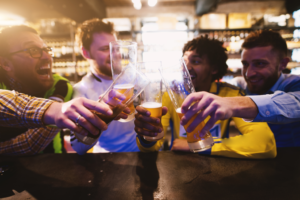 College football season is almost here. Now, all you need to do is find the right place to watch all the games. If you live in or around Addison, Illinois, you should consider watching them at Stardust Bowl, the biggest bowling center in the State of Illinois.
Our facility is lined with HDTVs, allowing you to catch virtually any game that's being broadcasted. However, that isn't all there is to do at our facility. With a range of activities to choose from, we make sure our visitors are never bored.
Read below for more information!
Make Yourself at Home in Our Lounge
If you're stopping by Stardust Bowl to catch a game, the best place within our facility to watch is in our lounge. Characterized by cold drinks, delicious food, and an array of televisions, it's the perfect place to kick back and watch some football.
Affordable Drink Specials
Regardless of which day of the week you stop by, you will have drink specials available to you. These drink specials include everything from domestic beer, to imported beer, to craft beer, and liquor, and will allow you and your group to get a great deal on drinks throughout the games.
A Variety of Food
Not only do we have drink specials for you to take advantage of during the game, but a full restaurant as well. Our in-house restaurant, The Big LaBOWLski Grill, serves dishes of all kinds, including everything from entrees, to appetizers, to sides, to desserts and more. Whatever you're in the mood for, we can accommodate your taste.
A Lineup of TVS
One of the best things about spending college gameday at Stardust Bowl is that you'll be able to watch several games at the same time. Our facility features an enormous lineup of TVs, allowing us to air games taking place all over the country.
Bask in the High-energy Environment
Watching football at home has its perks, but ultimately, it's can sometimes be a little boring. Watching football at Stardust Bowl is just the opposite: it's a lively and exciting time! If you're looking to take in the game while basking in a high-energy environment, Stardust is the place to go.
Supplement Gameday With Some Games of Your Own
There's no reason to sit idly when watching your game. At Stardust Bowl, you can watch while engaging in some games of your own.
Bowling
Bowling is a great activity to participate in when watching football. Offering up plenty of downtime, it will do very little to distract you from the game. You can watch a down of football, roll your ball, and start watching again.
Video Games
Another option you have available to you is to play some video games. Take a break between the quarters so that you can indulge in our massive arcade room, Game Quest. It's a great way to kill downtime throughout gameday.
Pool
Like bowling, billiards offers a great deal of downtime between turns. This makes it an excellent game to play while watching football. With tables situated throughout our facility, you shouldn't have much trouble getting a game started.
Stop in at Your Leisure!
Interested in watching the game at Stardust Bowl? We would be happy to have you!
We're open from 9 a.m. to 11 p.m. on Sundays, 9 a.m. to 12 a.m. on Mondays through Wednesdays, 9 a.m. to 1 a.m. on Thursdays, and 9 a.m. to 2 a.m. on Fridays and Saturdays. Our facility is located at 37 E. Lorraine Ave., Addison, Illinois 60101.
Have any questions? You can contact us by calling (630) 833-1040.