15 Sep

Enjoy Monday Night Football at Stardust Bowl in Addison, IL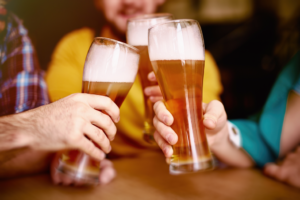 Are you caught up in the excitement of the NFL season? Looking for a place to enjoy Monday Night Football? If so, you might consider stopping by Stardust Bowl in Addison, Illinois.
Our facility is the perfect place to watch a football game. Characterized by a lively atmosphere, an array of HDTVs, and ample fun, it's sure to enhance the viewing experience.
Looking to learn more about what Stardust Bowl has to offer? This blog post should be of some assistance to you.
Take it Easy in Our Lounge
If you're looking to focus on the game, you should stop by our lounge. It has everything needed to facilitate a premium viewing experience.
All the Food You Could Ever Need
It's hard not to get hungry during the game. Fortunately, our in-house restaurant, The Big LaBOWLski Grill, is here to accommodate you. Serving everything from entrees, to appetizers, to desserts and more, it is practically designed to please hungry football fans.
Plenty of Drinks
Do you like to have a few drinks while you're watching? That won't be a problem. Our lounge is equipped with a fully stocked bar, offering drink specials on everything from domestic beer, to imported beer, to craft beer, to liquor and more. If you want to enjoy a few adult beverages during the game, we can accommodate you.
An Array of HDTVs
When you walk into our lounge, you can rest assured: you will be able to see the game. Our array of flat screen TVs ensures this, offering everyone in their vicinity clear and undisturbed views of each and every play. Whether it be kickoff, a punt return, or any other play during the game, you will be able to view it in real-time.
Enhance Your Experience with Some Other Activities
Are you only marginally interested in the game? Hoping to spice up your viewing experience? If so, you could consider participating in some other activities while the game is on in the background. We offer a number of activities, including:
Bowling
Looking to bowl during the game? We won't have a problem accommodating you. Our facility is enormous, sporting a total of 84 bowling lanes. Regardless of the size of your group, we'll be able to fit you in.
Want to make it a certainty? If you wish, you can reserve a lane ahead of time. Contact us now to do so!
Billiards
Another option you'll have available to you is to play some pool. We have billiards tables located all throughout our facility, allowing our visitors to participate in both competitive and recreational games. You don't even have to worry about missing the game. You can take your shot, watch a play, and then take your next shot. There's no need to miss even a second of meaningful action.
Arcade
If bowling and billiards aren't your thing, or if you're just looking for a short activity to partake in during halftime, you should head to our Game Quest arcade room. It houses a wide variety of games, including everything from classic arcade games, to modern video games, and everything in between. Regardless of your gaming preferences, it's sure to offer something you enjoy.
Video Gaming
In addition to the games found in our arcade, you can also find games scattered elsewhere throughout our facility. Whether you're looking to get a little risky with electronic slots or are just looking to pass some time with a no-stakes video game, we'll have you covered.
Best Monday Night Football Venue is at Stardust Bowl
Ready to watch some Monday Night Football? We're ready to accommodate you. Whether you're looking to kick back and have a few drinks, get up and roll a few frames, or just glue yourself to a chair and watch the game, our team has you covered.
Our facility is located at 37 E. Lorraine Avenue, Addison, Illinois 60101 and is open from 9:00 AM to 12:00 AM on Mondays.
Have any questions? Stop by anytime or contact us now!