15 Oct

Hold a Holiday Party Get-together at Stardust Bowl in Addison, IL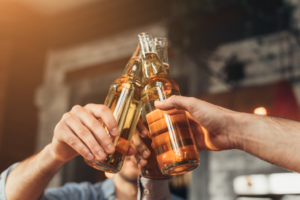 Thanksgiving is just around the corner. So too are Christmas and New Year's. If you're looking to get your co-workers, friends or family together for the holidays, now is the time to start making plans.
Are you in need of a fun venue to hold your get-together? If you're in Addison, Illinois, Stardust Bowl is the place to be. Ours is the biggest bowling center in the State of Illinois, providing a wide variety of activities for co-workers, families and friends to partake in.
Regardless of your party's interests, you're sure to have a great time at our facility. Read on to learn more!
Congregate in Our Lounge
Looking to have a relaxing, low-stress get-together? If so, our lounge will accommodate you. Providing ample food and drink as well as an array of HDTVs, it's the perfect place to kick back with your friends and family.
Enjoy a Meal
Hoping to enjoy some food together? If so, we'll have you covered. Our in-house restaurant, The Big LaBOWLski Grill, serves a wide variety of food, including everything from burgers, to chicken tenders, to salad, to french fries, and much more. Whatever your taste preferences may be, you will be accommodated.
Have Some Drinks
Maybe your group is looking to enjoy a few holiday toasts? If so, you'll be able to do so at our bar. We offer drink specials each and every day of the week, ensuring that you're always able to drink affordably. Serving craft beer, domestic beer, imported beer, and liquor, we're sure to have something you enjoy.
Heighten the Experience with Fun Activities
Sitting around a table and talking isn't good enough for some. Some groups require a little more excitement.
If you're looking to heighten your get-together with some fun activities, Stardust Bowl is the place to be. At our facility, you can:
Bowl with Your Group
Stardust Bowl is the largest bowling center in the State of Illinois. As such, we have no trouble reserving lanes for our guests. If you feel like getting a few games in, we will be able to accommodate you.
Each of our 84 lanes is equipped with bumpers and automatic scoring computers, ensuring that even the most novice of bowlers can have a great time. Reserve a lane by calling us right now!
Visit the Game Room
What better way to let off steam than to enjoy some video games? Our Game Quest arcade room is fully-stocked with games, offering everything from arcade games, to modern video games, to traditional mechanical games, and more.
Whether your party is serious about video games or just likes to play every once in a while, we have everything you need to have a good time.
Cue it Up
Not into bowling? Tired of gaming? If so, you might consider playing some pool. Our facility offers a number of billiards tables, allowing both competitive and recreational players to get in a game or two.
Enjoy the Energetic Environment
Here are Stardust Bowl, we go out of our way to create a fun and energetic environment. We do this because it's what our visitors love. They deserve to have a place where they can kick back and relax for a while.
Featuring top-notch lighting and a state-of-the-art sound system, we'll be blasting out the tunes all night long. Whether your group wants to sing, dance, or just sway to the beat, you'll be entirely welcome to do so.
Reserve Our Banquet Room
If you're looking to have a more formal get-together, you can reserve our banquet room. Designed to accommodate large groups, it's the perfect place to host big holiday parties. Reserve it now!
Make Your Get-together Official
Whether you're looking for a laid-back get-together or are hoping to go above and beyond with a big-time party, we can accommodate you.
Our facility is open from 9 a.m. to 11 p.m. on Sundays, from 9 a.m. to 12 a.m. on Mondays through Wednesdays, from 9 a.m. to 1 a.m. on Thursdays, and from 9 a.m. to 2 a.m. on Fridays and Saturdays. We're located at 37 E. Lorraine Ave., Addison, Illinois 60101.
Any questions? Want to reserve our party room? Contact us now or give us a call at (630) 833-1040!