15 Nov

Have a Fun Elmhurst Office Party at Stardust Bowl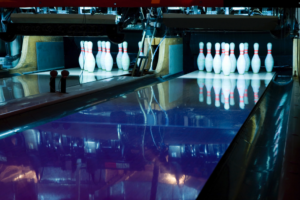 Is morale at the office low as of late? Looking for a way to build it back up again? If you're located in Elmhurst, Illinois or its surrounding area, you should consider having an office party at Stardust Bowl.
Ours is the biggest bowling center in the State of Illinois. However, we don't stop at bowling. We provide a variety of other activities as well. Curious as to what they are? Read below to find out!
Enjoy a Meal
There's nothing like a great meal after a long day at work. We here at Stardust Bowl understand that, and we do everything we can to satisfy our guests' appetites.
Our in-house restaurant, the Big LaBOWLski Grill, serves a number of different food entrees, including but not limited to hamburgers, chicken tenders, and hot dogs. Whether you're looking for a full meal or just a light snack, it will accommodate you.
Have Some Drinks
Perhaps a meal isn't enough? Maybe you're looking to have some drinks as well? If so, our bar can accommodate you. With drink specials each day of the week, we ensure that all of our customers can drink affordably.
It doesn't matter whether you want craft beer, imported beer, domestic beer, liquor, or otherwise, we'll have you covered. We cater to everyone's tastes.
Have Some Fun Bowling
Stardust Bowl is home to an unbelievable 84 bowling lanes, allowing us to accommodate groups of all different sizes. Half of our lanes possess bumper capabilities, allowing both experienced bowlers and novices to have a little fun. As far as keeping score goes, we have automatic scoring computers that will do the hard work for you.
Whether you're looking to play some recreational games, or are hoping to get competitive with it, your group is sure to have a great time. Reserve your lanes today!
Hit the Game Room
Not into bowling? Maybe you'd like to play some video games instead? If so, our game room will serve you well. Stocked with all types of games, including mechanical games, arcade games, modern video games, and otherwise, it's got something for everyone.
We even have electronic slot machines in our facility, allowing our risk-taking guests to get in on some low-stakes gambling.
Play Some Billiards
Maybe you and your co-workers would like to shoot some pool? Stardust has you covered. Our facility has pool tables scattered throughout, accommodating both competitive and recreational players. Whether you're a skilled billiards player or are playing for the first time, you will be welcome.
Enjoy the Energetic Environment
Time spent at the office can make you drowsy. Looking for a way to get your adrenaline pumping? Come into Stardust Bowl and experience our energetic environment! Supported by a top-tier sound system and a high-tech lighting system, we create an upbeat and exciting environment for our guests.
You and your co-workers can sing, dance, and tap your toes to the music, all the while taking in the sights and sounds that are going on around you. You're sure to have a great time here!
Visit Stardust Bowl Today!
Are you interested in bringing the office to Stardust Bowl for a good time? If so, our team would love to have you.
Our facility is open from 9 AM to 11 PM on Sundays, from 9 AM to 12 AM on Mondays through Wednesdays, from 9 AM to 1 AM on Thursdays, and from 9 AM to 2 AM on Fridays and Saturdays. We're located at 37 E. Lorraine Ave., Addison, Illinois 60101.
Any questions? Contact us now!