15 Jan

Outstanding Venue for Oak Brook Corporate Parties and Events…Bring the Team Together at Stardust Bowl in Addison, Illinois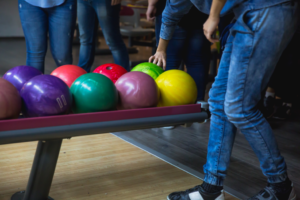 Are you the head of a sports, work, or academic team? Looking for a way to build up the group's morale? If so, you should consider stopping by Stardust Bowl in Addison, Illinois.
Our facility offers tons of fun activities, and it is practically designed to facilitate team camaraderie. Wondering what your team can do at our facility? Read on to find out!
Hang Out in Our Lounge
If you're looking for a casual and laid-back time, your team should spend some time in our lounge. Characterized by good food, affordably priced drinks, and a variety of TVs, it has everything needed to have a great time with your group. In our lounge, you can:
Share a Meal
Hoping to eat a meal during your event? Maybe you're just looking to grab a snack? In either case, our lounge restaurant, The Big LaBOWLski Grill, can accommodate you. Offering everything from hamburgers, to fries, to salads, and more, it has a little something for everyone. Regardless of you and your team members' food preferences, you will be covered.
Have Some Drinks
Maybe you're looking to have a few adult beverages? Look no further than our lounge bar. Offering drink specials every day of the week, it allows our many customers to drink for a great price. Whether your team is into craft beer, domestic beer, imported beer, or liquor drinks, we have you covered.
Enjoy Some Television
Looking to watch a game or a television program? If so, you can watch it on any of our HDTVs. We've got sports, TV shows, movies, and news playing at all hours of the day. Regardless of what your group is interested in watching, you'll be able to see it here.
Participate in a Variety of Activities
Looking to liven things up a bit? Stardust Bowl has you covered. We have a number of fun activities for your team to participate in, including the following.
Bowling
Stardust Bowl is the largest bowling center in the State of Illinois. Home to over 80 bowling lanes, we've always got room for another group. Each of our lanes is equipped with bumpers and automatic scoring computers, allowing even the most novice of bowlers to enjoy themselves.
Interested in rolling a few frames? Call to reserve your lanes today!
Billiards
Is your team not into bowling? Maybe you'd prefer to play some pool instead? That won't be a problem. We have billiards tables scattered throughout our facility, allowing both competitive and recreational players to have a little fun.
Video Games and Gaming
Maybe your team is into video games? If so, you'd probably enjoy spending some time in our Game Quest arcade. Stocked with everything from classic arcade games, to mechanical games, to modern video games, and more, it's fun for people of all ages.
Like to gamble? You might consider giving our electronic slot machines a try. Note, however, that you must be 21 or older in order to use them.
Dancing
Hoping to get your bodies moving a bit? Here at Stardust Bowl, that's easy. We have music playing and lights beaming at all hours, providing the perfect atmosphere for our guests to dance, sing, and have an all-around blast.
Host Your Next Oak Brook Corporate Event at Stardust Bowl Today!
Are you ready to bring your Oak Brook corporate team to Stardust Bowl in Addison, Illinois? If so, our staff is ready to host you!
We're open from 9:00 AM to 11:00 PM on Sundays, from 9:00 AM to 12:00 AM on Mondays through Wednesdays, from 9:00 AM to 1:00 AM on Thursdays, and from 9:00 AM to 2:00 AM on Fridays and Saturdays. Our facility is located at 37 E. Lorraine Ave., Addison, Illinois 60101.
Any questions? Contact us today!