15 Mar

Bring the Work Team to Stardust Bowl; Excellent Venue for Work Team Building Exercises Near Oak Brook, IL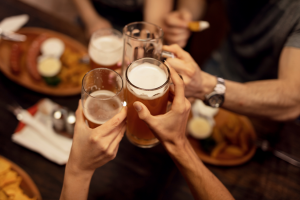 Is your work team getting a little restless? Looking for a fun way for everyone to let off some steam? If so, you should consider stopping by Stardust Bowl outside of Oak Brook, Illinois.
Our facility has a great deal to offer, and it's well suited for hosting corporate team building exercises. Regardless of your work team's interests, we're sure to have something for you all to enjoy.
Wondering what you can do at our facility? Read below to find out!
Hang Out in Our Lounge
Looking to just hang out and relax? If so, our lounge will serve you well. Offering ample food, drink, and TV, it has all of the necessities required to bring the team together and accommodate a low-key good time.
TV
Perhaps you're hoping to catch a big game together? Maybe you're just looking to watch the news? Whatever the case may be, if you're hoping to watch some TV with your employees and/or coworkers, our lounge can accommodate you. Lined with an array of HDTVs, it broadcasts television programs of all kinds at all hours of the day.
Food
What's watching TV without a little food? We have a restaurant to accommodate all of your culinary needs. Whether you're looking for lunch, dinner, or a simple snack, The Big LaBOWLski Grill will have you covered.
Drinks
Perhaps you're hoping to enjoy some drinks? Never fear! Our lounge bar is here. Offering drink specials every day of the week, it supplies everything from imported beer, to craft beer, to domestic beer, to liquor drinks, and more. Plus, you'll save money with our daily drink specials.
Take Part in an Activity
Maybe you're looking for something a little more upbeat? Perhaps you're looking to get everyone's blood flowing? If so, we have a number of activities to accommodate you. These activities include:
Bowling
Seeing as we're the largest bowling center in Illinois, it's no surprise that we offer bowling. Our facility contains over 80 lanes, each of which is equipped with automatic scoring computers and bumpers. As such, we can accommodate bowlers of all experience levels.
Whether the members of your team bowl competitively, or they're just looking to enjoy a few recreational games, we will have room for you. Reserve your lanes today!
Pool
Not into bowling? If not, you might consider giving billiards a chance instead. We have multiple pool tables located in our building. Whether your group is serious about pool or have never played a game in their lives, they will be able to play as much as they'd like.
Video Gaming
Maybe your team is more into video gaming? If so, our Game Quest arcade will suit you well. Stocked with mechanical games, classic arcade games, modern arcade games, and everything in between, it accommodates game preferences of all kinds. Stop in and see it today!
Dancing
Looking to get up and get moving? If so, you'll enjoy our dance lounge. Equipped with a high-quality dance floor, it's characterized by top-notch music and lighting. Stomp your feet, clap your hands, and sing your lungs out. You're sure to have a great time!
Visit Stardust Bowl Today for Your Oak Brook Team Building Activities!
Ready to have some fun? Looking to bring your work team to Stardust Bowl outside of Oak Brook, Illinois for team building fun? If so, we'd love to have you.
Our facility is open from 9:00 AM to 11:00 PM on Sundays, from 9:00 AM to 12:00 AM on Mondays through Wednesdays, from 9:00 AM to 1:00 AM on Thursdays, and from 9:00 AM to 2:00 AM on Fridays and Saturdays. We're located at 37 E. Lorraine Ave., Addison, Illinois 60101.
Have any questions? Contact us today!