15 Jun

The Benefits of Participating in a Bowling League; Thoughts from a La Grange Area Bowling Alley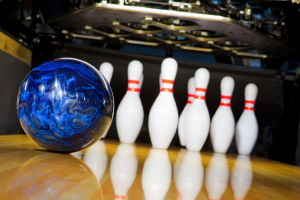 Looking for something fun to do after work? Hoping to get out and be active? If so, you should consider participating in a bowling league.
Participating in a bowling league comes with a number of benefits and could go a long way in adding some variety to your week. Curious as to the benefits of participating in a bowling league in La Grange, Illinois? We're going to discuss them below.
You'll Become a Better Bowler
Bowling leagues vary in skill level from ultra-competitive to laid-back and recreational, but in any case, they're always a big help in improving their participants' bowling skills.
This is so for two reasons: 1. They ensure consistent play, allowing participants to build upon their skills from week to week, and 2. They put bowlers around fellow bowlers, allowing them to challenge and learn from one another. In short, if you want to improve your bowling ability, joining a league will help you do just that.
You'll Make New Friends
Though there's no guarantee, there's a good chance that by participating in a bowling league, you'll make new friends. After all, you'll be bowling with and competing against a variety of other people. You're almost sure to meet someone who you can strike up a friendship with.
Even if you don't strike up any close friendships, you'll at least be getting a regular social experience. Humans are social creatures and can benefit simply from being around other humans.
You'll Encounter All Sorts of Interesting Characters
Not only will joining a bowling league help you to make new friends, but it will allow you to encounter a number of interesting characters as well. Those who participate in bowling leagues vary in personality from shy and reserved, to loud and boisterous, and everything in between. These many individuals will bring variety to your life, helping to make it all the more interesting.
You'll Get Some Exercise
Though it's not as strenuous as basketball or football, bowling is still a sport, and it's still capable of providing its participants with some exercise.
Bowling balls weigh between 10 and 14 pounds, on average. During a single game, you could be picking up this 10 to 14-pound ball anywhere from 10 to 30 times. That's bound to help build up your muscles over time, whether you realize it or not.
In addition, you have to walk a good 50 feet each time you approach or leave the lane. Do this 20 times per game, and you're walking ⅕ of a mile. It's not exactly running a marathon, but it's certainly better than nothing.
You'll Get a Chance to Relax
Adult life isn't always easy. Between working, tending to kids, and handling a range of other responsibilities, it can get pretty stressful pretty fast. As such, every adult needs a chance to relax from time to time.
One way to get your relaxation is by joining a bowling league. Bowling isn't an intense sport like basketball. It's laid-back and low-pressure, thus allowing its participants to enjoy themselves while they participate in it. It might not be the equivalent to getting a massage, but it still has a comfort-inducing quality all the same.
Join a Bowling League at Stardust Bowl in the La Grange, Illinois Area
Are you interested in joining a bowling league? If so, you might consider joining one at Stardust Bowl. We hold leagues all throughout the week, and we're sure to have one that appeals to you.
If you would like to learn more about our bowling leagues, contact us or call us at 630-833-1040!