15 Jul

Host Your Company Party at Stardust Bowl: Party Ideas from an Elmhurst Area Bowling Alley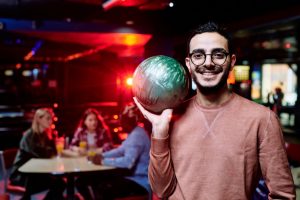 Are you looking to get your employees out of the office for a while? Hoping to hold a company party in the Elmhurst, Illinois area? If so, you should consider hosting it here at Stardust Bowl.
Our facility is perfectly equipped for hosting all kinds of company parties. Not only does it have banquet rooms, but several fun activities to engage in as well. Read below to see what our bowling alley near Elmhurst, Illinois has to offer.
Hang Out in Our Lounge
Are you looking for a low-key and laid-back sort of get-together for your company party near Elmhurst? If so, our lounge is the place to be. It has a lot to offer, including the following:
Drinks
Hoping to enjoy a few alcoholic beverages after work? Our lounge will certainly accommodate you. It has a fully stocked bar that serves everything from craft beer to imported beer to domestic beer to liquor and more.
Food
Our lounge doesn't just stop at drinks. It has a full restaurant, The Big LaBOWLski Grill, that serves everything from appetizers to entrees to desserts and more. Whether your group is looking for a quick snack or a long meal, we'll have something delicious for you to enjoy.
TVs
No one wants to sit in a quiet room at a company party. That's why our lounge is stocked with a row of HDTVs. These show all kinds of programming, from athletic events to movies to TV shows and more. Regardless of your group's interests and preferences, our TVs are sure to keep the discussion going.
Kick It Up a Notch with Some of Our Fun Activities
Not looking for a quiet and laid-back time? Hoping for something a little more exciting? If so, we have a variety of activities to partake in at our Elmhurst area bowling alley. These include:
Bowling
Our facility contains an incredible 84 bowling lanes, all of which have electronic scoring machines. As such, whether your group is filled with competitive bowlers or just people looking to have fun, Stardust Bowl is the place to be. As always, you can reserve lanes for your group by calling ahead.
Pool
If you get tired of bowling, or if you're not really interested in bowling, you can head on over to one of our many billiards tables. Our Elmhurst area bowling alley allows for both competitive and recreational games of pool. Regardless of your skill level, you should have a great time.
Video Gaming
If you are 21 years or older, you may want to enjoy some video gaming located inside our bar.
Game Quest Room
We have a variety of arcade gaming systems located in our Game Quest Room. It's equipped not only with modern games, but vintage games, mechanical games, and much more.
A Fun and Exciting Environment
At Stardust Bowl, we do everything we can to create a fun and exciting environment for our guests. That includes not only playing music through our top-of-the-line sound system, but also illuminating a beautiful light show at certain hours of the day.
Want to Plan a Company Party in the Elmhurst, Illinois Area? Host It at Stardust Bowl
Are you looking to organize a company party in the Elmhurst, Illinois area? Looking for an Elmhurst area bowling alley to host the party? If so, look no further than Stardust Bowl.
Our facility is located at 37 E. Lorraine Avenue, Addison, IL 60101. Stop in during our business hours to see what we have to offer. You can also give us a call at (630) 833-1040.
Contact us today to get started.