15 Feb

Treat Your Employees to a Night of Fun at Stardust Bowl: The Top-Rated Company Party Venue in the Lombard, Illinois Area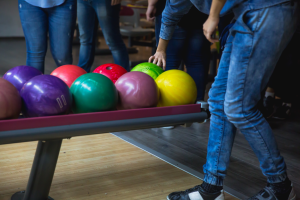 Have you recently had a cause for celebration at work? Hoping to treat your employees to a special outing after work? If so, you should consider celebrating at Stardust Bowl.
Our facility has a great deal to offer, and as the top-rated company party venue in the Lombard, Illinois area, you and your employees are sure to have a great time here. Read below to learn what our facility has to offer.
Bowl a Few Frames
With 84 state-of-the-art bowling lanes, Stardust Bowl is one of the largest bowling alleys in the State of Illinois. As such, if you're looking to bowl a few games, we'll have no trouble accommodating you.
Are you planning on bowling with a large group? If so, and if you want to play it safe, you can always contact us ahead of time to reserve your lanes.
Game Quest Arcade Room
Hoping to add some variety to the experience? If so, you can head over to our Game Quest arcade room. It contains all sorts of games, from classic arcade games to modern video games to mechanical games and much more. Regardless of your employees' gaming preferences, there is sure to be something here that will suit them.
Play Pool
Another activity your employees can engage in at our facility is billiards. We have a pool table area located inside our facility that is open for people of all skill levels. Whether your employees are seasoned players or have never played before, they're sure to have a good time.
Enjoy Some Drinks
Maybe you and your employees are hoping to order some drinks to cap off the work week? As the top-rated company party venue in the Lombard, Illinois area, we serve all types of alcoholic beverages at our bar. These vary from imported beer to craft beer to domestic beer to liquor drinks and more.
You can find a different drink special at our bar each day of the week, which means you and your group can always get a great deal at Stardust Bowl.
Order Some Food
If you're interested in ordering some food, our in-house restaurant, The Big LaBOWLski Grill, will serve you well. It offers many kinds of foods, including entrees, sides, desserts, and more. Whether you need a full meal or just a small snack, we can accommodate you.
Watch Some TV
If you're simply looking for a place to watch a sporting event or a television program, you don't need to go any further than our lounge. We have an array of HDTVs set up that can be changed to any channel you'd like.
Enjoy the Ambiance
In truth, you can have a good time at our facility by simply sitting back and taking in the ambiance at our facility. We have popular music playing at certain hours of the night to go along with our top-notch speaker system and lighting system. You and your coworkers will have the chance to sing, dance, and bask in the fun and excitement that surrounds.
Looking for the Top-Rated Office Party Venue in the Lombard, Illinois Area?
Are you ready to plan a fun and unique company outing for your employees? If so, and if you're looking for the top-rated office party venue in the Lombard, Illinois area, you've come to the right place — Stardust Bowl is the place to host it.
Regardless of the size of your group, we would be more than happy to accommodate you. Contact us today to get started.