15 Mar

Sign Up for a Bowling League at Stardust Bowl: The Premier Bowling Alley in the Elmhurst, Illinois Area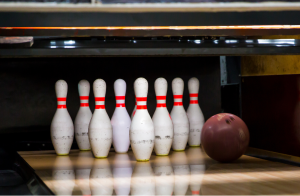 Are you hoping to add a fun weekly activity to your schedule this spring? If so, you should consider joining a bowling league.
If you would like to join a bowling league that takes places at the premier bowling alley in the Elmhurst, Illinois area, look no further than Stardust Bowl. We have leagues all throughout the week, and we can accommodate bowlers of all ages. Read below to learn about our options.
Adult Bowling Leagues
At Stardust Bowl, we have a wide variety of bowling leagues for adults. These are available to anyone over the age of 17. There are both general and specialized leagues available.
Want to join an all-male league? We have those. Perhaps you're looking for an all-female league? We have those as well. We also provide co-ed leagues so that you can bowl with any and everyone.
Some of our leagues are dedicated to adults of certain age brackets, while others are open to adults of all ages. We also have leagues that cater to specific interests and industries to give individuals an opportunity to network.
In short, we have adult bowling leagues that will suit just about everyone.
The Benefits of Joining a Bowling League
Forming New Friendships
Almost everyone who joins one of our bowling leagues ends up forming new friendships. You'll be seeing the same people week in and week out, which means new friendships are bound to be forged.
Stoking Your Competitive Spirit
Some of our leagues are designed for recreational bowlers, while others are designed for competitive bowlers. But regardless of the type of league you join, it's sure to get your competitive juices flowing.
Adding Variety to Your Routine
For many individuals, weekdays can become mundane after a while. If you are looking for something to break up the monotony, joining a bowling league is a fantastic option. It will give you a great opportunity to get out and have some fun during the weeknights.
Youth Bowling Leagues
As the premier bowling alley in the Elmhurst, Illinois area, we also offer youth bowling leagues. These are designed for kids between the ages of 3 and 19, and they focus more on developing one's skills as opposed to sheer competition. By entering your child into one of our bowling leagues, you'll provide them with the following benefits:
The Opportunity to Socialize
Socialization is a vital part of a child's development. It not only helps them to fit in with others, but it also helps them develop confidence. A bowling league offers an excellent opportunity for children to socialize, as it puts them around the same kids on a regular basis.
Enhanced Athleticism
Bowling alone probably isn't going to turn your child into a stellar athlete. However, it's still an athletic endeavor, and it will help to enhance your child's athletic skills. They'll become more coordinated, and they'll also develop specific athletic techniques that can aid them in other sports.
A Good Time
Bowling is a great sport, as it offers a combination of fun and competitiveness. Even if your child isn't the most competitive bowler, they're sure to have a great time socializing during league meetups. Contact us today to discuss our league options for your child.
Join a Bowling League at the Premier Bowling Alley in the Elmhurst, Illinois Area
Are you ready to join a bowling league that meets weekly at the premier bowling alley in the Elmhurst, Illinois area? If so, we are sure to have an option for you at Stardust Bowl.
Contact us today at (630) 833-1040 to learn about out adult or youth bowling leagues.